Online  Family Therapy
How can you solve problems if you have no one to talk to?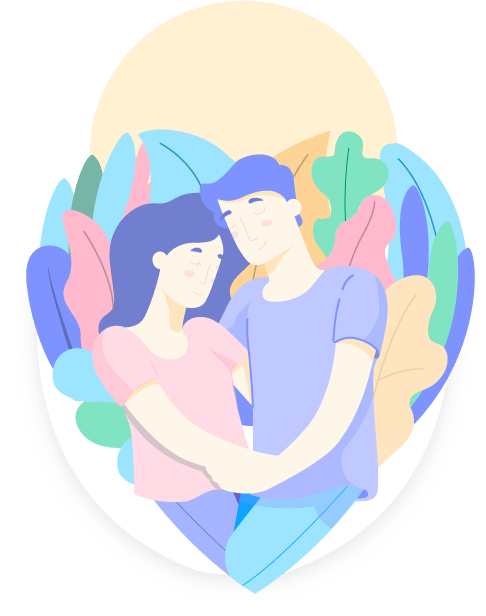 No more long commutes or waiting rooms
With our online counselling, you can talk to a psychologist from the comfort of your home! With no commute and no waiting room, it's easier than ever to get the help you need.
Online 24/7 access
Need help now? We're available 24/7 via phone or Whatsapp to answer any questions or offer emotional support.
Get personalised care for what you need
Our team of psychologists are experts in their field. Whether you need help with stress and anxiety, family conflict, depression or anything else, they've got your back!
A natural solution for everyone
Whether you're a child, individual or couple – we've got something for you! Our team of professionals understand all types of issues that people go through. With reliable service and affordable prices on every package, there's no excuse not to talk to us today.
Reasons for Family Therapy
Read More
Help is available. Having an addiction means that you have a physical dependence on drugs or alcohol. When you're addicted to something, you'll have intense cravings, changes in personality, and abnormal behaviors—but that doesn't mean you have to have these traits for the rest of your life.
Read More
Intimacy as Punishment is a behavior stemming from the feeling of being powerless. We feel powerless when we cannot control how our spouse makes us feel, and so we look for ways to punish them for our discontent so that they will once again feel like the powerful one and give us what we want instead of leaving it to chance. This, of course, results in a destructive relationship dynamic where both parties are under the impression that the other person is uncaring and inconsiderate.
Read More
Communication can be a challenging aspect of both personal and professional relationships. Conflicts may arise, and it is important to work through them to maintain positive connections with others. Family therapy may be helpful for communicating effectively when conflicts arise, and it also allows mental health professionals to work with entire families in order to help heal any distress or difficulty that has occurred in relationships.
Read More
Many relationships are tested by power struggles, an often unconscious attempt to assume control or influence in a relationship. This is most easily seen between children and parents, especially between teens and their parents. It can be caused by the child's desire for independence, but can also be one sided as the parent makes demands on the child for controlled behavior. How are you doing with power struggles?
Read More
When a family member becomes disabled and relies on the care of others, it is not uncommon for the caregivers to experience high levels of stress, exhaustion and feelings of helplessness. Family therapy can help you.
Read More
The foundation of a healthy family begins with a strong bond between parents and children. A strong bond shapes the growth and development of a child by influencing their physical, psychological, and social health. In some cases, parents may so difficulty forming close attachments with their children leading to what is described as a "disconnected family."
About Family  Therapy
Family therapy, or family counseling, aims to address psychological, behavioral, and emotional problems that contribute to family problems and others. Family members will work with a therapist or counselor to develop and maintain a healthy relationship.
Family dynamics play a crucial role in shaping our emotional well-being and personal growth. However, various factors, such as conflicts, life transitions, behavioral issues, and mental health concerns, can strain these relationships. Psychological therapy offers a proactive approach to addressing these challenges, fostering understanding, resilience, and coping mechanisms.
Your family may pursue family therapy along with other types of mental health treatment, especially if one of you has a mental illness or addiction that also requires additional therapy or rehabilitation treatment.
Family therapy is often short-term. It may include all family members or just those able or willing to participate. Your specific treatment plan will depend on your family's situation. Family therapy sessions can teach you skills to deepen family connections and get through stressful times, even after you're done going to therapy sessions.
The key benefits of family therapy are enhanced communication, conflict resolution, strengthened family bonds, individual and collective growth, and parenting support.
At Healmind, our therapists, who are trained in family therapy, can help you identify and work through these issues to get back on track. Our therapists can help you find hope and support through family therapy. Family therapists provide services using methods adopted from a variety of schools of thought, including cognitive-behavioral therapy, solution-focused brief therapy, family systems therapy, object relations theory, interpersonal psychotherapy, psychodynamic theory, and attachment theory. If you are seeking support and growth for your family, we invite you to take this brave step and embark on a therapeutic journey with us. Together, we can build healthier and more fulfilling family relationships that last a lifetime.
We offer the full spectrum of evidence-based family therapy services including family mediation and divorce mediation, as well as individual therapy, child therapy, adult psychotherapy, and couples therapy. If a loved one is suffering from a mental illness or drug abuse problem, we can also connect you to programs in your community that support recovery.
Book Your Appointment
Book your slot As Time Preferences
Pick Your Therapist
Choose your therapist from well qualified
professionals
1st Session!
Begin your journey to better you 
Contact Us
Ask a question or book an appointment below. For emergencies call 112  or visit your nearest hospital